PUMA First Mile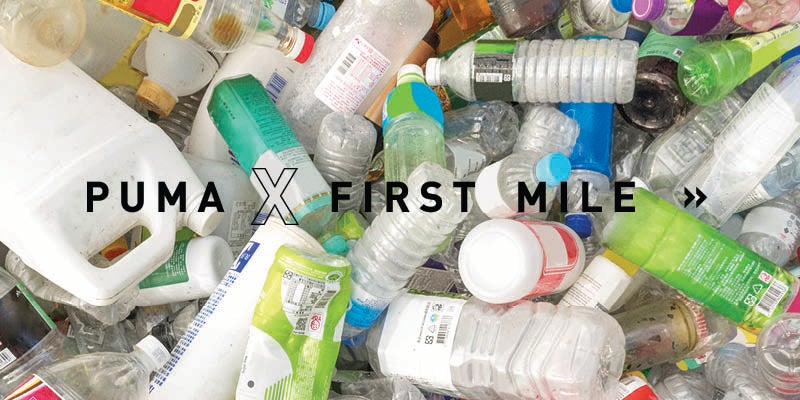 Taking its corporate social responsibility very seriously, PUMA teamed up with a unique and resourceful initiative called First Mile. First Mile® works with waste collection communities in Taiwan, Haiti, and Honduras to create jobs and positive social impact. The yarn in this collection is made from post-consumer plastic collected in Taiwan. Each bottle is sorted, cleaned, shredded, and turned into yarn that makes sustainable products with purpose. Empowered people, cleaner planet — from the first mile forward.
Reduce, Reuse, Regenerate
To underline the inspiration of First Mile, PUMA has teamed up with Nicole McLaughlin. The multidisciplinary designer transforms discarded miscellanea into objects with new, imaginative, and often unexpected utility. By doing so, she shows how a circular approach to design and manufacturing can help us reframe waste as an opportunity. 
Nicole hosted a workshop about different upcycling possibilities to design and craft your own unique water bottle. This way Nicole was hoping to encourage you to stay hydrated while taking care of the planet and yourself all at once.
So, let's have fun! All you have to do is to grab an old water bottle and a mix of sneakers related items like leathers, laces, soles, etc. Then, create a design around the bottle with the different pieces you selected. You can also create a temporary design on the bottle, so it starts to come to life. After that, image how you will wear it by creating a strap (you can start fixing with the sewing machine if you have one, if not, a strong glue gun). Once you are sure your creation will be efficient, stick all the parts with a glue gun and use the sewing machine (if you have one) to create main seams. Now, start the finishing stage with scissors. Finally, enjoy your new water bottle holder!
We hope this kind of initiatives would make us more mindful of single-use plastics and lead us to act more responsibly.